Simplify Travel Payments with Virtual Cards and CCAs
TripActions takes the burden off of travelers by covering travel expenses upfront with a corporate account, and it takes the heavy lifting off of program managers and finance teams with one reconciled statement at the end of the month. Finance teams may have virtual cards issued in EUR, GBP, and USD to pay for travel spend in local currencies.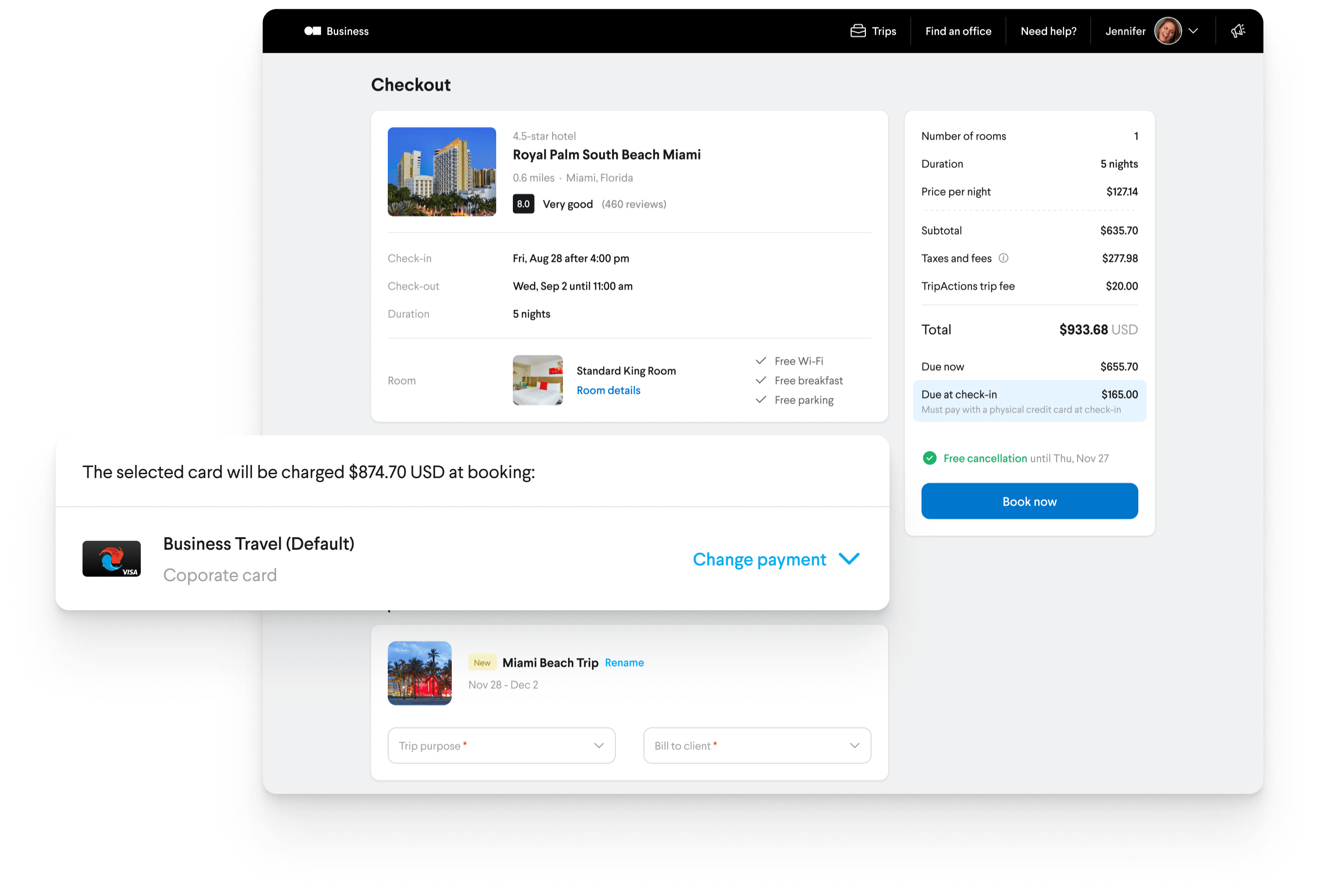 Travelers book, we handle the rest
Travelers no longer need to carry the cost of travel expenses on personal cards when booking on TripActions. Instead, employees are able to pay using their company's TripActions Liquid card. To ensure that employees are covered on-trip, finance teams may have credit card authorization forms (CCAs) and/or physical cards issued for pay-later hotels and on-the-go purchases.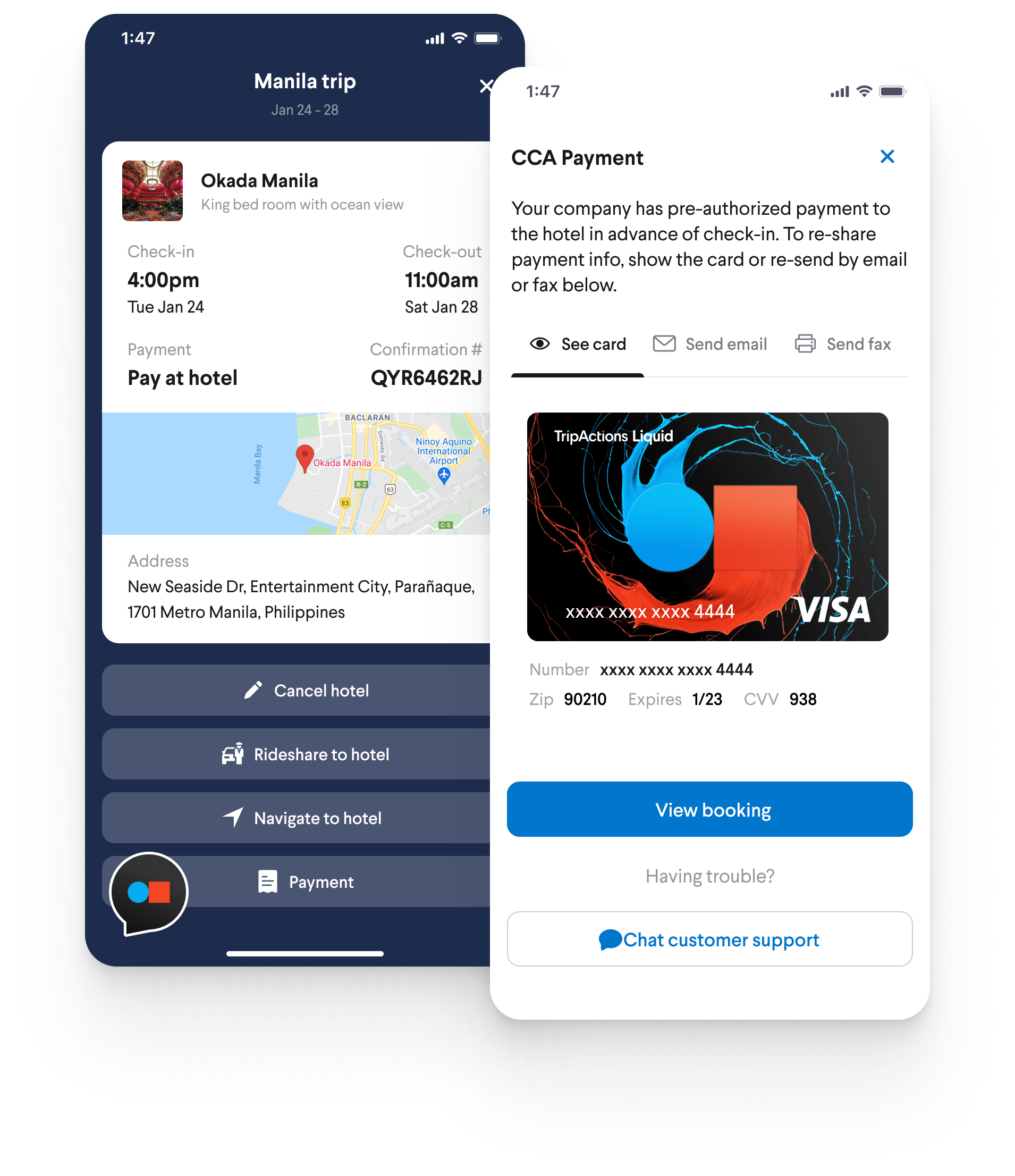 Automate CCA Delivery for Pay-Later Hotels
With automated credit card authorization (CCA) delivery, TripActions allows travelers to book pay-later hotels and enjoy a seamless check-in experience — without using personal funds. CCA forms are automatically delivered to hotels via fax or email at the time of booking. For added confidence, travelers may view and send CCA forms directly from the TripActions app.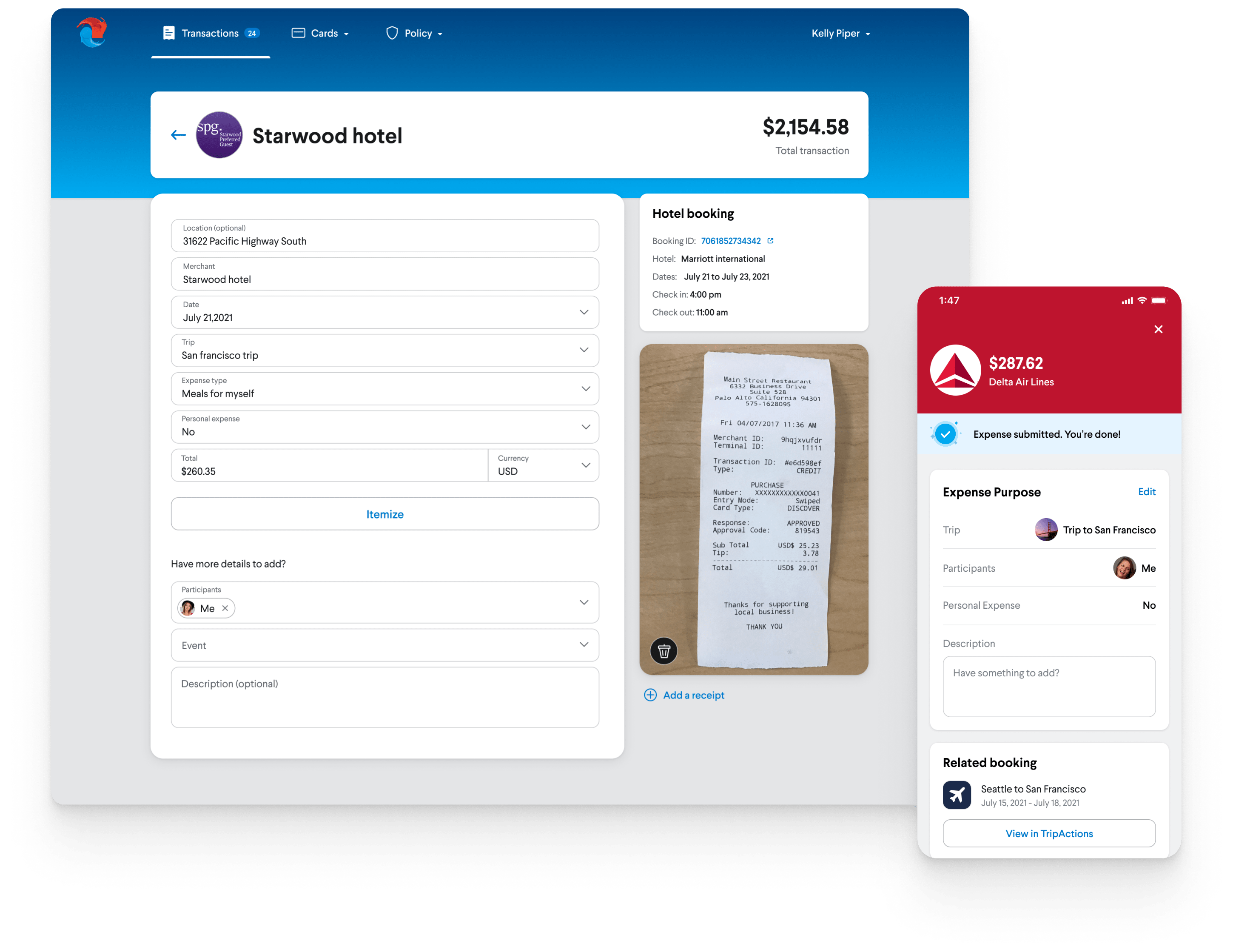 View Travel Spend with Granularity
When employees book travel on TripActions, they can view transactions directly in the TripActions Liquid mobile app or web app. Based on receipt requirements for pay-later hotels, employees can upload folios after checkout to give admins granular visibility into hotel expenses.
Streamlined reconciliation for finance teams
At the end of each billing cycle, TripActions provides one statement with each traveler's spend, making reconciliation fast and easy. Finance teams won't need to track down expense reports for business travel booked through TripActions on personal cards, ultimately saving them time and effort.
I wasn't surprised when TripActions came to me with a solution. What impressed me, though, was how effective it is. TripActions Liquid is a major time saver. We've been able to reduce travel payment reconciliation time from weeks to minutes each month."
- Vik Shah, Corporate Controller, Zoom

Case Study: Epicor Harnesses TripActions for Global End-to-End T&E Solution
Since implementing TripActions in 2020, Epicor has seen time savings of 66%, user satisfaction skyrocket, and overall improvements in adoption, productivity, and savings.
Take your travel management expertise to the next level