The TripActions Carbon Stance
At TripActions, we believe in the value of being there in person. We believe that we are all better served when meetings, lunches, and happy hours happen in person. We know employees want to meet their teammates in person and that face-to-face interactions help close deals. We also believe that the environmental impact of travel is an essential consideration when it comes to business travel.
That's why TripActions is dedicated to providing our customers with a platform that educates, informs, and reduces the impact of carbon emission produced by travel. As a company, we pride ourselves on reducing our own carbon footprint by only promoting essential business travel and offsetting our carbon footprint through leading sustainable actions, each and every year.
Trains are more energy efficient than air travel
by
36%
First class seats account for more emissions than Economy seats
by up to
9x
Flying with biofuel versus fossil fuel can reduce emissions
by up to
80%
See The TripActions Sustainable Offering
Designed for Sustainable Travel
Globally, the transportation industry is responsible for roughly 28% of all greenhouse gasses.* Since business travel contributes to this total, companies around the world are pledging to report and reduce their environmental impact on a quarterly and annual basis. At TripActions, we believe it is our responsibility to support our customers by providing the real-time data required to make emissions decisions, educate travelers on their carbon impact, and build tools designed to help companies meet their business travel sustainability goals.
*Source: EPA.gov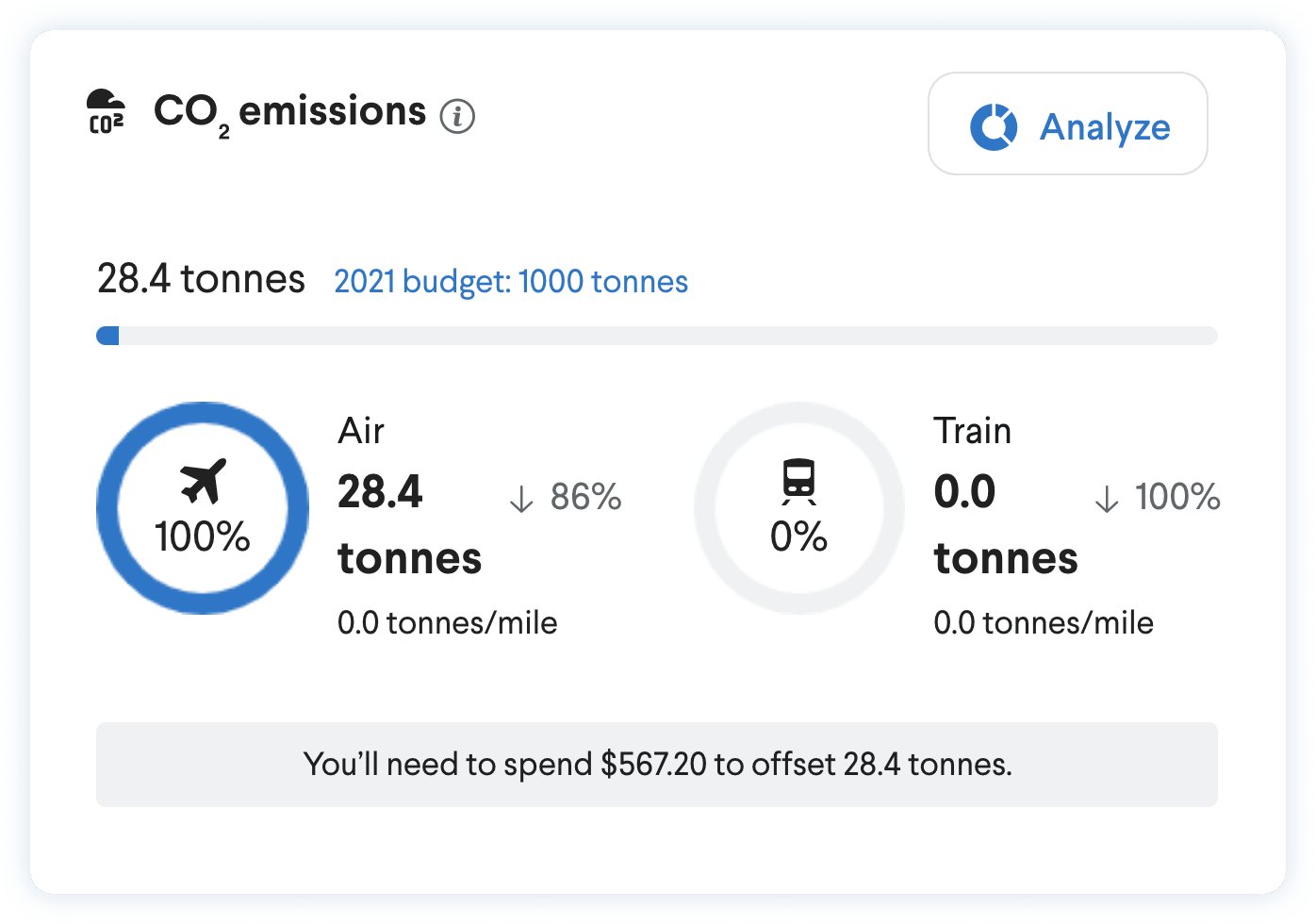 Carbon Emission Reduction
As companies of all sizes focus more on sharing their carbon emission data with investors, board members and the public, they must rely on third-party companies like TripActions to provide accurate and actionable insights. TripActions users rely on the self-serve access our impact reporting provides to get the real-time insights necessary to manage travel-related carbon emissions, identify groups and individuals producing the largest carbon footprints, and track their company's emissions against a yearly budget.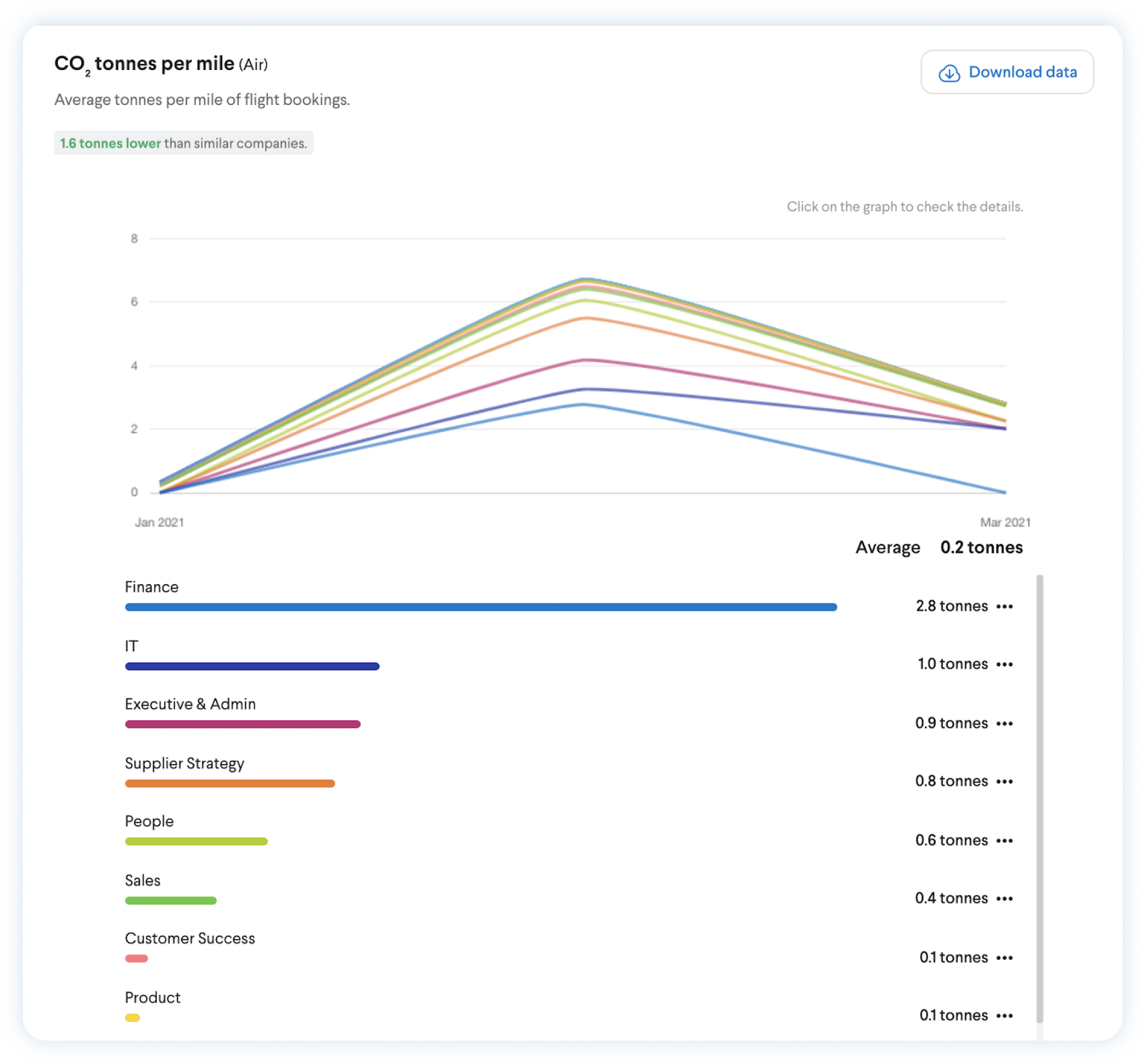 Flexible Analytics
To ensure data congruence, TripActions offers all customers three unique carbon calculating methodologies: DEFRA, ICAO, and TREMOD. And to ensure complete data access, all sustainability data available within the TripActions platform is exportable via the TripActions API. This ensures that companies have the ability to manipulate, manage, and report their travel-related carbon footprint in their preferred manner.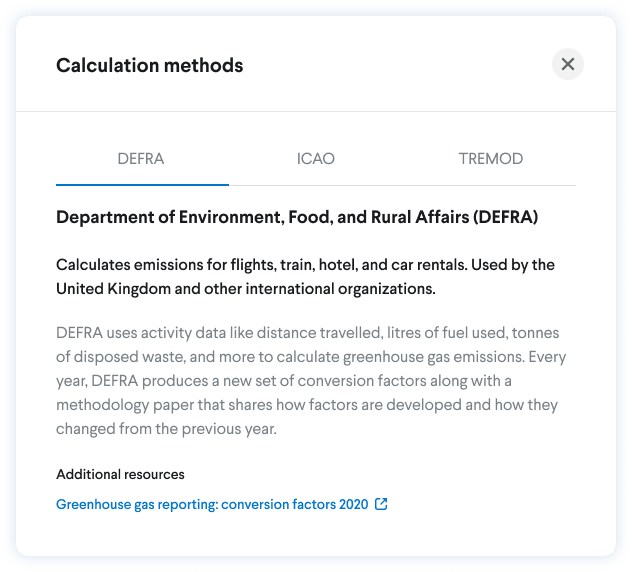 "We have a goal to be carbon neutral by 2024, which will be primarily offsets and, as our digital workplace transformation evolves, we'll look at how we can do that even more aggressively in the future, but what it comes down to is that you have to measure first. Until you have some kind of a baseline, it's hard to say what you're going to reduce or eliminate—you have to be measuring."
– Marilyn Johnson, Senior Director of Global Sustainability, Clarivate