New product features you'll find below
In Q3 2021 TripActions expanded its VIP and Meetings and Events services through its partnership with Reed and Mackay, streamlined purchase and virtual card processes, developed hotel promotion tools, and added a new partnership to help companies reduce their travel-based carbon footprint.
In this guide you'll see some of the incredible new services and features available right now.
Sustainable Aviation Fuel
What is it?
Aviation accounts for ~2.5% of global annual CO2 emissions. In order to meet the climate change challenge head-on, innovation in energy-source transition is crucial. Sustainable Aviation Fuel, or SAF, is recognized as one of the most immediate solutions for addressing the climate change challenge head-on.
In partnership with Neste, TripActions and Reed & Mackay now offer the ability to purchase SAF, which helps your company significantly reduce the carbon emitted from flying.
Benefits
Direct reduction to greenhouse gas: Reduce greenhouse gas emissions by up to 80% as compared to fossil jet fuel.
Reportable and measurable: SAF can be used to address Scope 3 targets if procured in line with Science-Based Targets initiative (SBTi) principles.
Incrementally drives up SAF supply: Investment in SAF will aid and drive demand for this alternative fuel source.
How do you participate in this program?
Email your Customer Success Manager or
success@tripactions.com
to explore a SAF purchase for your organization.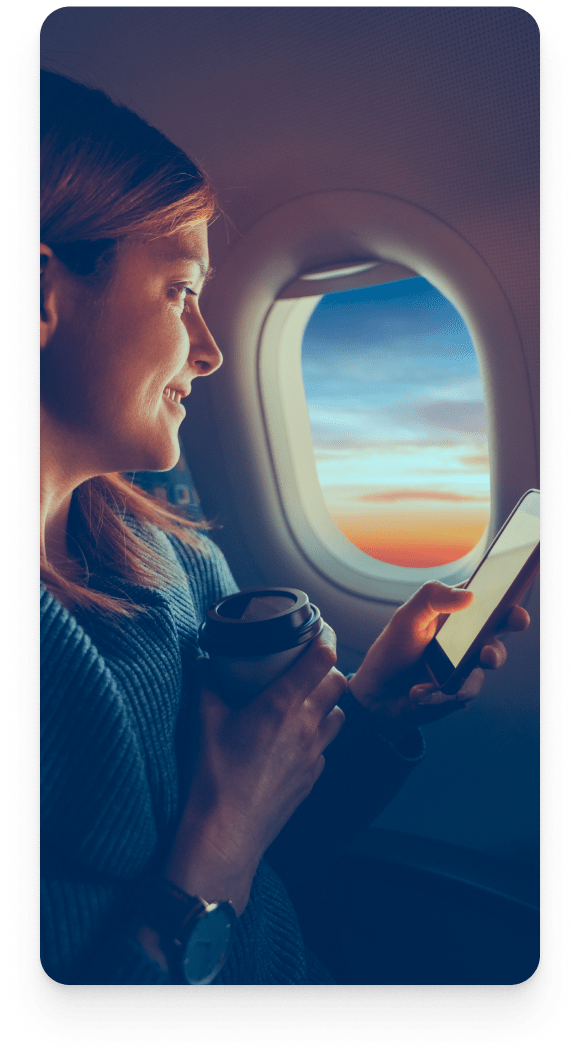 Enhanced VIP offering
What is it?
High-touch inquiries from VIP travelers will now be handled by Reed & Mackay's dedicated travel consultants: highly experienced travel professionals, with 15+ years of experience working with complex itineraries and unique requests. VIP users can manage travel on-the-go via TripActions, or access dedicated consultant support via the app, phone and email.
Benefits
Designated support: Instant access to dedicated VIP travel consultants via exclusive channels.
Exclusive services: Support with fast track immigration, private jet, charters and helicopter booking, flight and hotel upgrades, hotel pre-registration, and more.
24/7, 365 monitoring: Hassle-free travel due to consultants who closely scrutinize itineraries from booking through trip end.
How do you enable this feature?
Email your Customer Success Manager or
success@tripactions.com
to learn more about the VIP offering.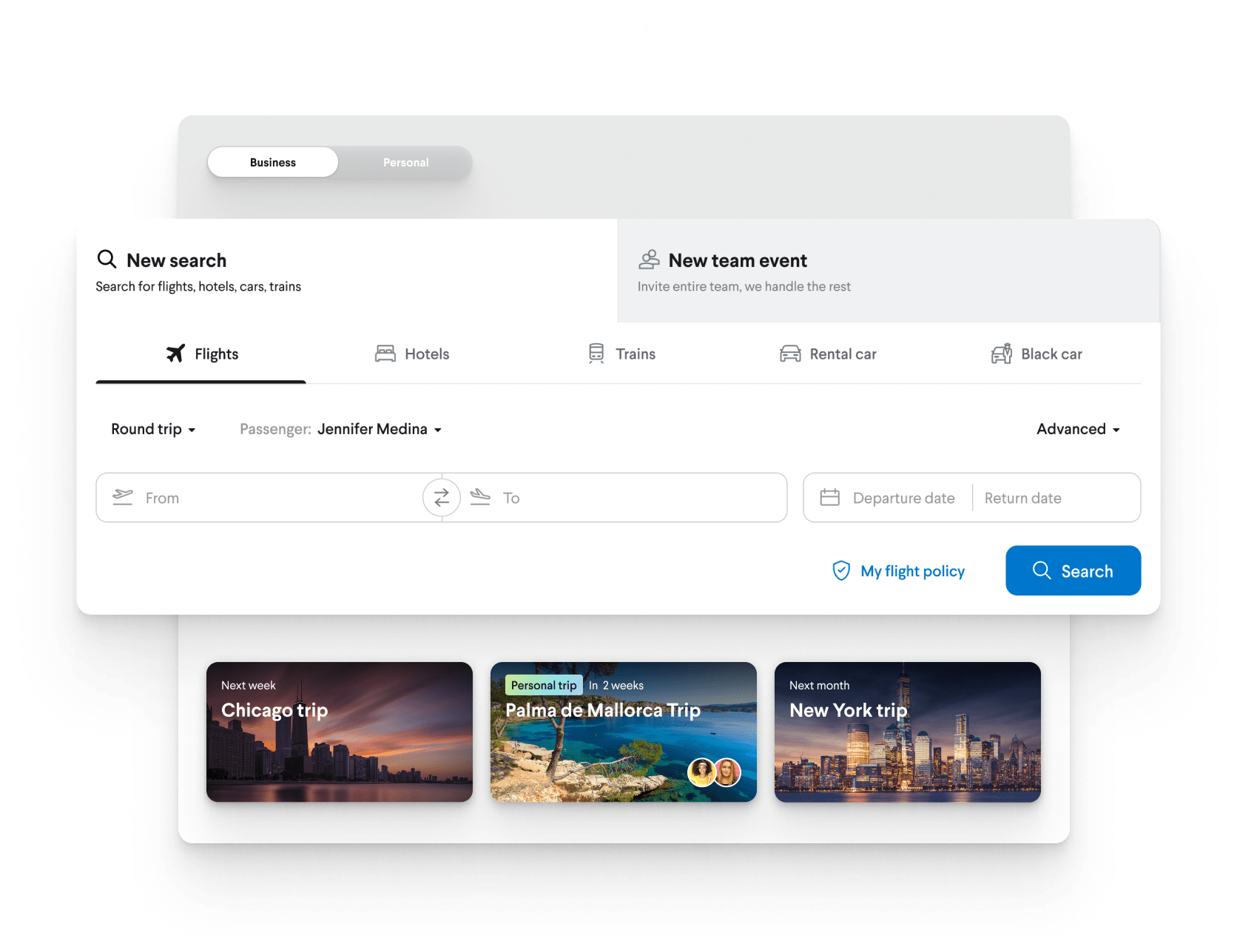 Enhanced Meetings & Events offering
What is it?
Award-winning Reed & Mackay consultants are now providing full service meetings and events support to all TripActions' clients. This highly-experienced team offers end-to-end event management services for requests such as venue and air sourcing for complex journeys or bookings for large groups.
This service is complemented by the TripActions self-service group event planning tool, Team Travel.
Benefits
Self-serve technology: Easily create and manage events for up to 25 participants via Team Travel or using guest invites.
Managed sourcing: Request support to source and manage room blocks, event space, and additional F&B needs.
End-to-end support: Benefit from the expertise of a full-service agency for high touch events, complex journeys, and air bookings for large groups.
How do you enable this feature?
Team Travel and guest invites are available directly within TripActions for up to 25 participants. For more complex meetings & events requests, email meetingsandevents@tripactions.com.
Preferred Hotel Tagging
What is it?
Travel managers can mark hotels as "preferred" on the TripActions platform. Tell us what hotels to tag as preferred, and we'll add a badge that's visible to your travelers and our agents—no corporate rates necessary!
Benefits
Boost hotel program compliance
Promote safer, smarter bookings
Improve control over travel program
How do you enable this feature?
Email your Customer Success Manager or success@tripactions.com with the hotel names and addresses.*
*limited to 5 hotels per city and 10 cities - total of fifty hotels globally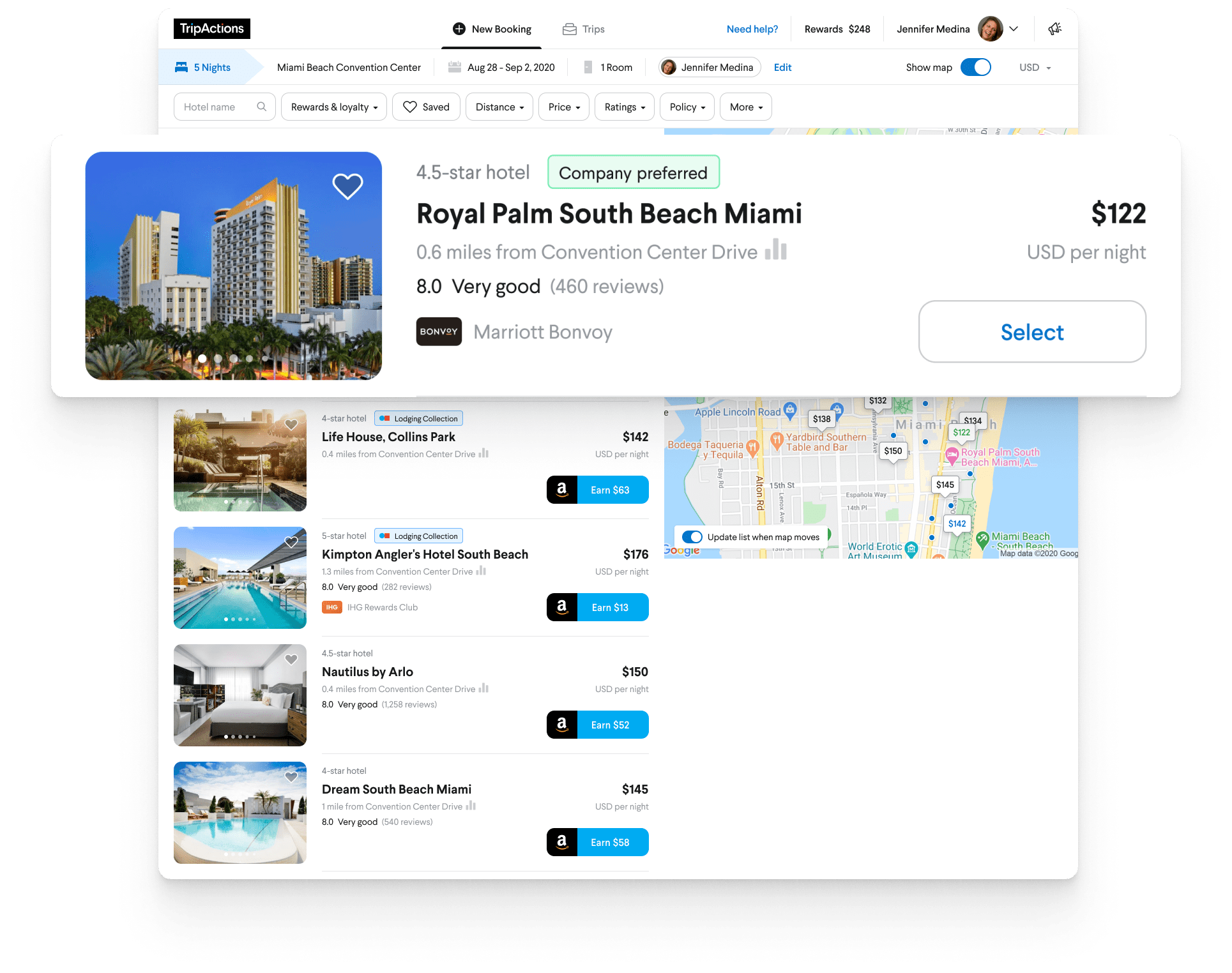 User Web App
What is it?
With the new TripActions Liquid web app, employees can view transactions in real-time, complete action items, and track the status of their expenses from the convenience of their computer. This gives users the ability to access key features previously only available on the TripActions Liquid mobile app from their preferred web browser.
Benefits
Accessible for all users: Employees can expense on mobile or web prefer
Easily manage transactions: Employees can easily manage transactions, view cards, complete action items and bulk-upload receipts within a web browser
Stay on top of your expenses: View and track the status of all card transactions and out-of-pocket reimbursements
How do you enable this feature?
This feature is automatically enabled for all TripActions Liquid users. To find it:
Users: Sign in to TripActions, select the Business tile, then "Liquid" from the dropdown menu next to your name. Alternatively, use this link.
Account admins: Access using the same instructions as above. To manage company level transactions and account settings, navigate to the Liquid Dashboard. Select My Liquid from the main navigation menu to navigate back to your individual account.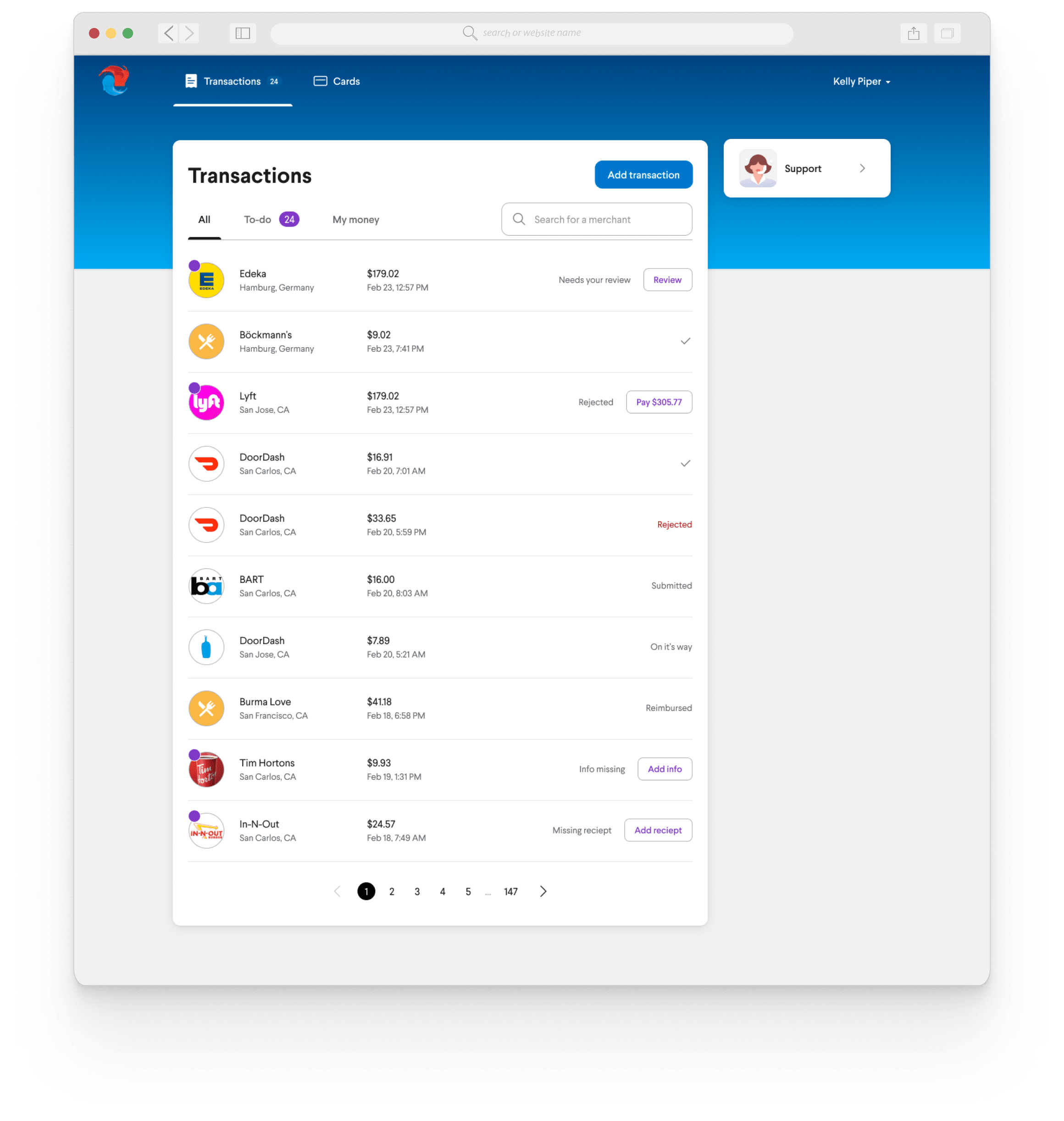 Automated Credit Card Authorization Delivery
What is it?
Pay-later hotels require Credit Card Authorization (CCA) forms because rooms are initially booked with a virtual card but require the guest to present a physical card at check-in. With TripActions Liquid's Automated CCA feature, guests no longer need to have the physical card in hand because CCAs are sent automatically to hotels via fax or email when a user books a pay-later hotel using a virtual card.
Benefits
Simplified travel payments: Automatically delivers CCA forms to hotels via fax or email when a user books a pay-later hotel using a virtual card
Seamless hotel check-in: Give travelers the ability to book pay-later hotels, which removes cash flow burdens and ensures a seamless check-in process
How do you enable this feature?
Automated CCAs will be turned on and available for all customers unless otherwise requested.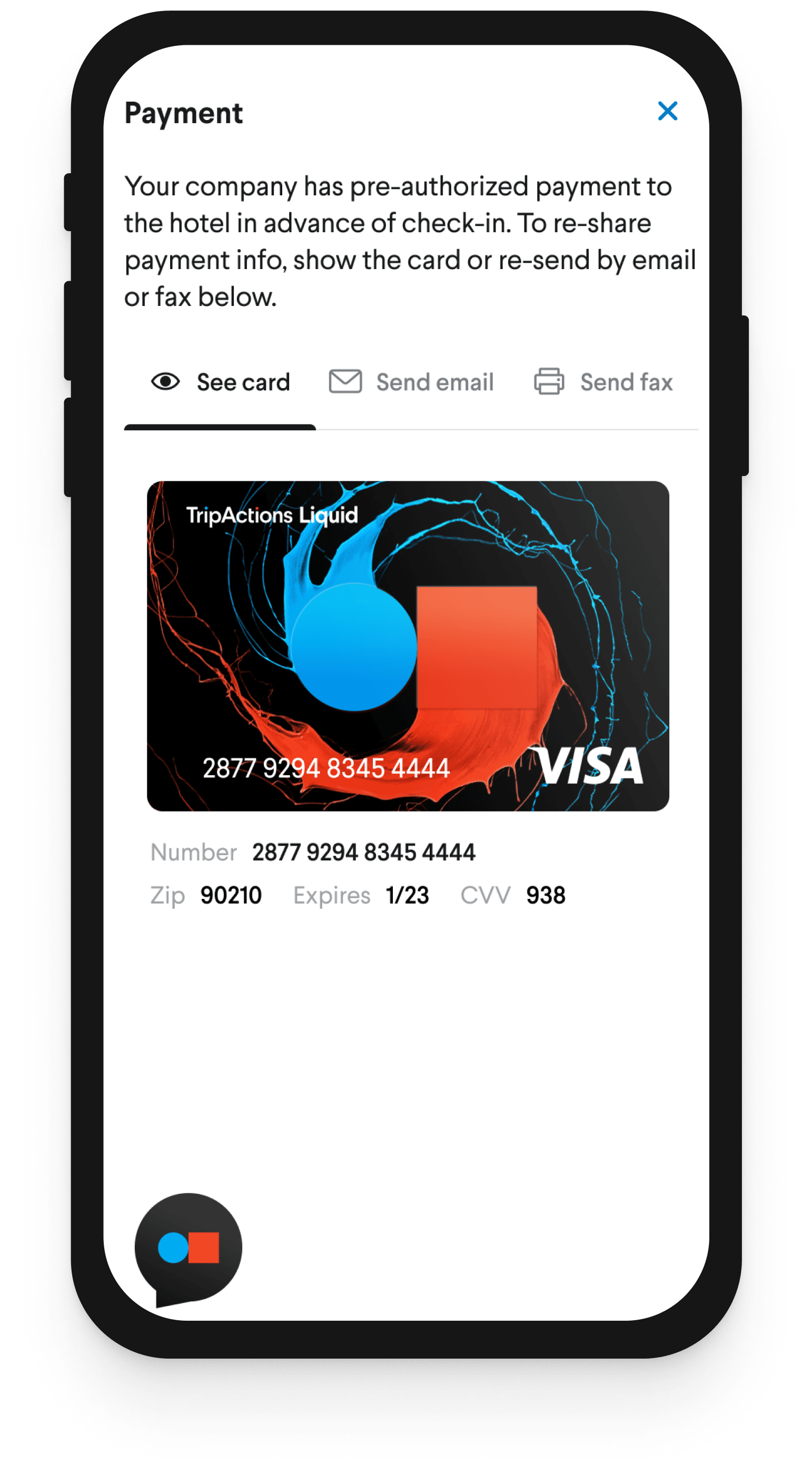 Liquid Purchase Request and Approvals
Request & approve virtual purchase cards in Liquid or Slack
Employees can easily request a purchase card via Slack or the TripActions Liquid platform. Admins can view, manage, and review these requests in real-time. This allows companies to manage all card spend and approvals in one place, all while driving automation, control, and savings.
Benefits
Empower employees to spend: Allow users to submit, view, and manage purchase requests on TripActions Liquid mobile, web, and Slack
Give admins control and visibility: Admins can approve, reject, or ask for more information on card requests in real time
Streamline the purchasing process: Instantly issue approved cards with limits around merchant, recurrence, spend limit, and more
Drive savings: Receive a competitive rebate on all purchase card spend
How do you enable this feature?
Liquid Purchase requests and approvals are enabled for all customers. Liquid Admins will need to set up request and approval policies within their settings in order to allow employees to access this feature.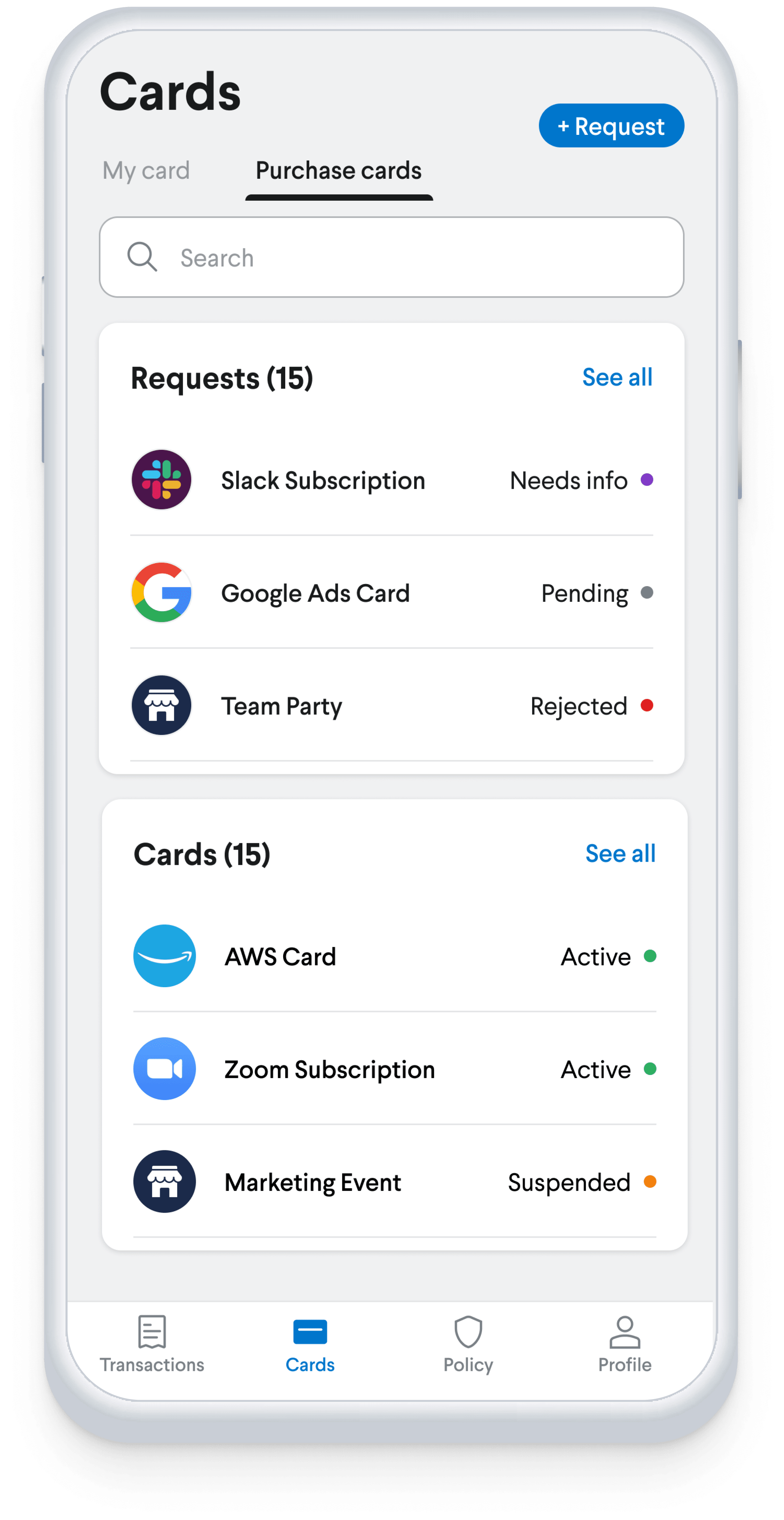 In-app Liquid Travel
View and manage travel payments within TripActions Liquid
TripActions Liquid users can now view authorized virtual card travel transactions paid within the app for flights, trains, hotels, and black cars. After hotel check-out, users can upload their receipt to provide an admin and employer with additional context.
Benefits
Allow users to upload hotel folios after check-out
Give admins the ability to set requirement policies for pay-later hotels
Enjoy deep visibility into hotel, flight, train, and black car expenses
How do you enable this feature?
In-app Liquid Travel is already enabled for users, who can view their TripActions virtual card transactions among the full list of transactions on both the Liquid mobile app and web app. Admins can go into the policy engine to set up receipt requirement policies for pay-later hotels as well.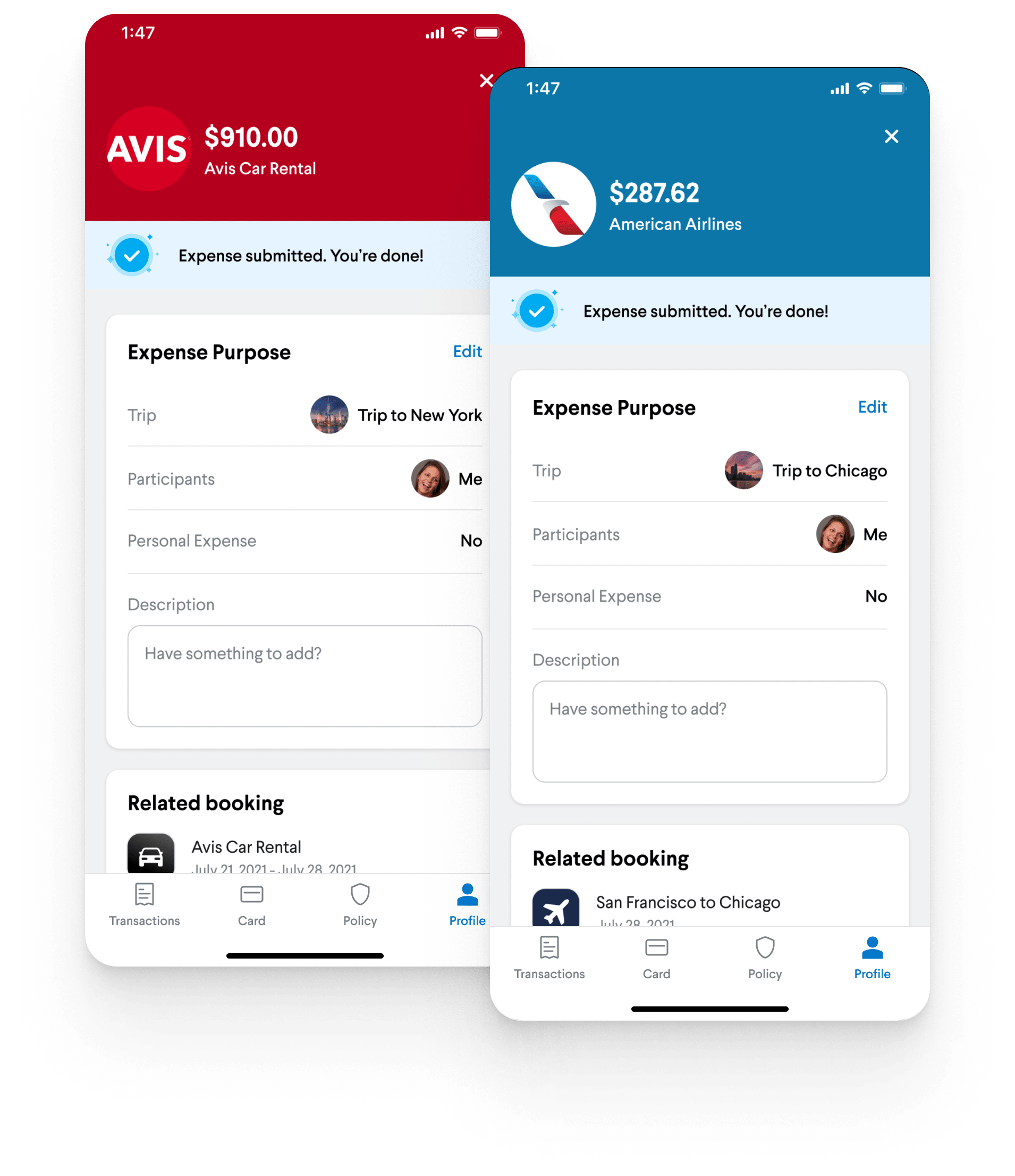 TripActions enhanced its high-touch services, made purchase and virtual card processes more seamless, improved control over hotel programs and empowered companies to better support green initiatives.
Learn more about these new services and features