Business travel inventory for everyone, everywhere
We've carefully curated an unrivaled choice of business-friendly air, lodging, rail and rental car inventory to suit any type of business traveler no matter where work takes them around the world. Whether travelers are driven by price, loyalty, convenience, safety or overall experience, our multi-sourced inventory and innovative booking platform will match them with the best options available based on their preferences, past booking behavior and company policy.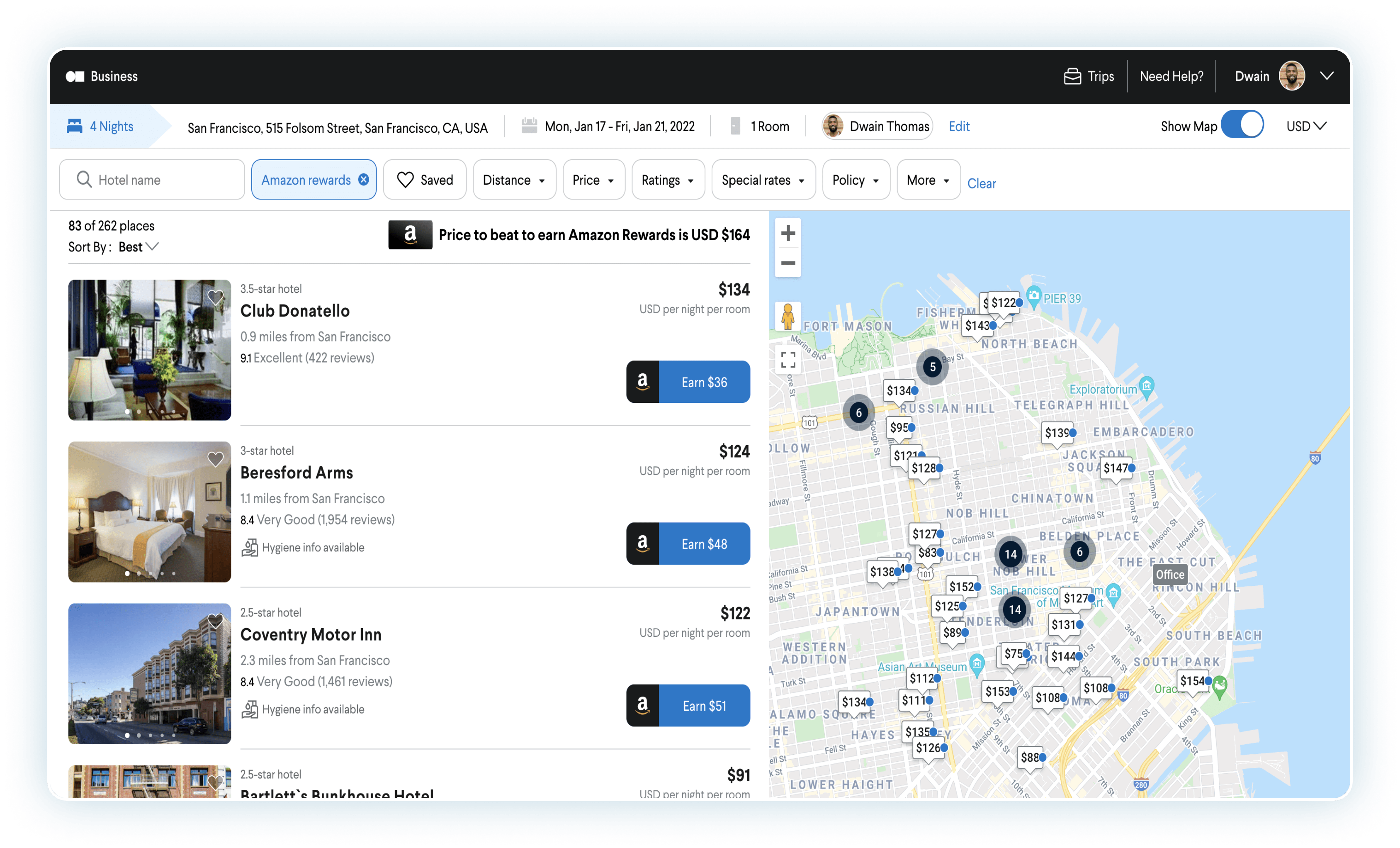 User-first booking experience
Backed by AI, TripActions' search technology delivers an efficient and effective way to shop, while eliminating compliance concerns. Taking personal preferences, loyalty affiliations and past booking behavior into account, our intuitive UI presents company policy together with a rich level of detail about options for easy comparison.
By focusing on our users first, we neither upcharge nor manipulate our search results to bias high cost options, and we don't focus our sourcing on high yielding suppliers. Instead, we listen to travelers and travel managers, and give them exactly what they want.
Our consumer-grade displays, intuitive search and vast, unbiased inventory of business-friendly options leads to a satisfaction score of more than 93%.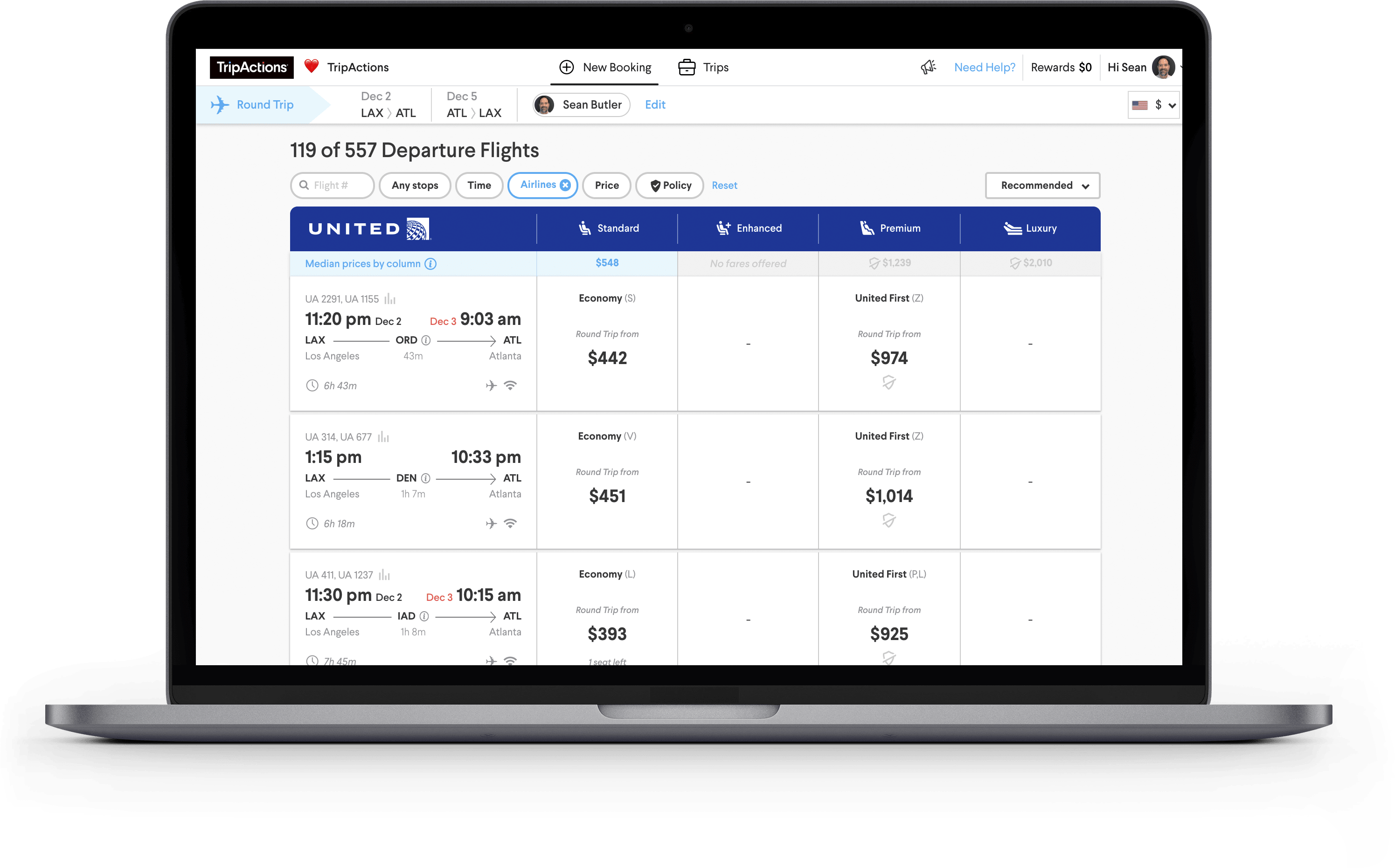 Matching travelers with the right inventory
TripActions sources inventory directly from airlines, lodging, rental car and train suppliers, from popular consumer sites within Expedia Partner Solutions and Priceline Partner Network, from global distribution systems and other providers. The vast array of inventory we curate, combined with our traveler-first focus, and our industry-leading machine learning technology, means TripActions is able to match the right inventory with the right traveler at the right time.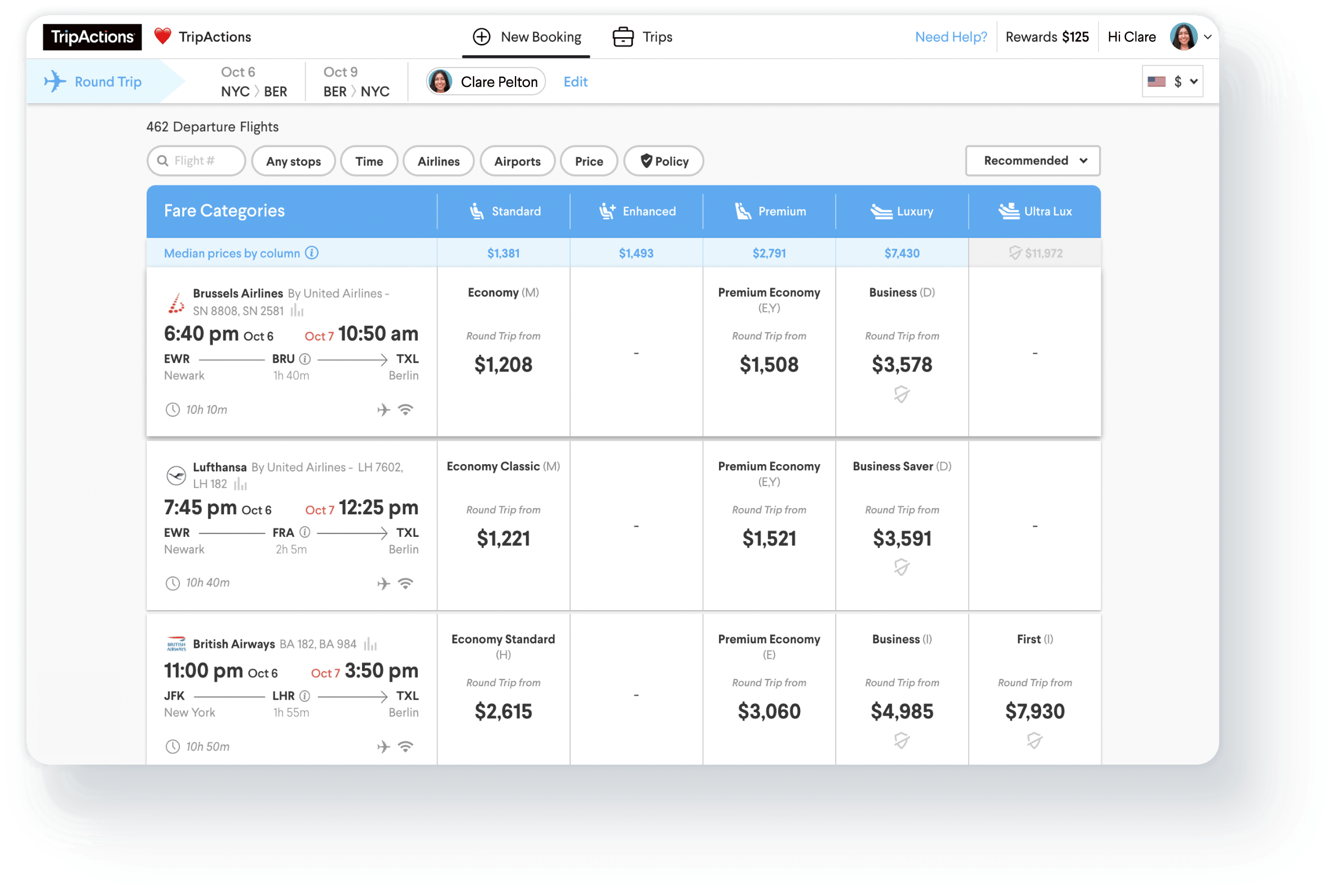 Innovation that drives adoption and productivity
By pairing together the diverse rates, exclusive deals and travel options business travelers want with a cutting edge booking tool and expert travel agents available 24/7, TripActions travelers have an unrivaled 90%+ adoption rate. Plus, booking and managing all facets of a trip is done in minutes right within our self-service tools or with the assistance of a travel agent when needed.
Taking back control of your travel program
With your inventory, cost-savings, safety and compliance taken care of, and TripActions groundbreaking technology in your hands, you'll be able to steer your travel program in the right direction.
TripActions equips travel managers with comprehensive dashboards and innovative policy controls to quickly adjust your program and inventory as needed. TripActions even promotes better booking behavior by automatically calculating real-time fair-market value in every city with our dynamic policy.
Air
A world-class flight shopping experience delivered by combining innovative technology like NDC with the global air inventory.
Lodging
Millions of hotels and rates carefully curated to provide global coverage, complement travel programs and satisfy business traveler needs.
Rail
Access to exceptional train inventory for business travelers across the US, UK, Europe and more regions, along with self-service tools.
Car Rental
Business travel by ground that is fast and easy with a wide array of car rental options, including all major providers globally.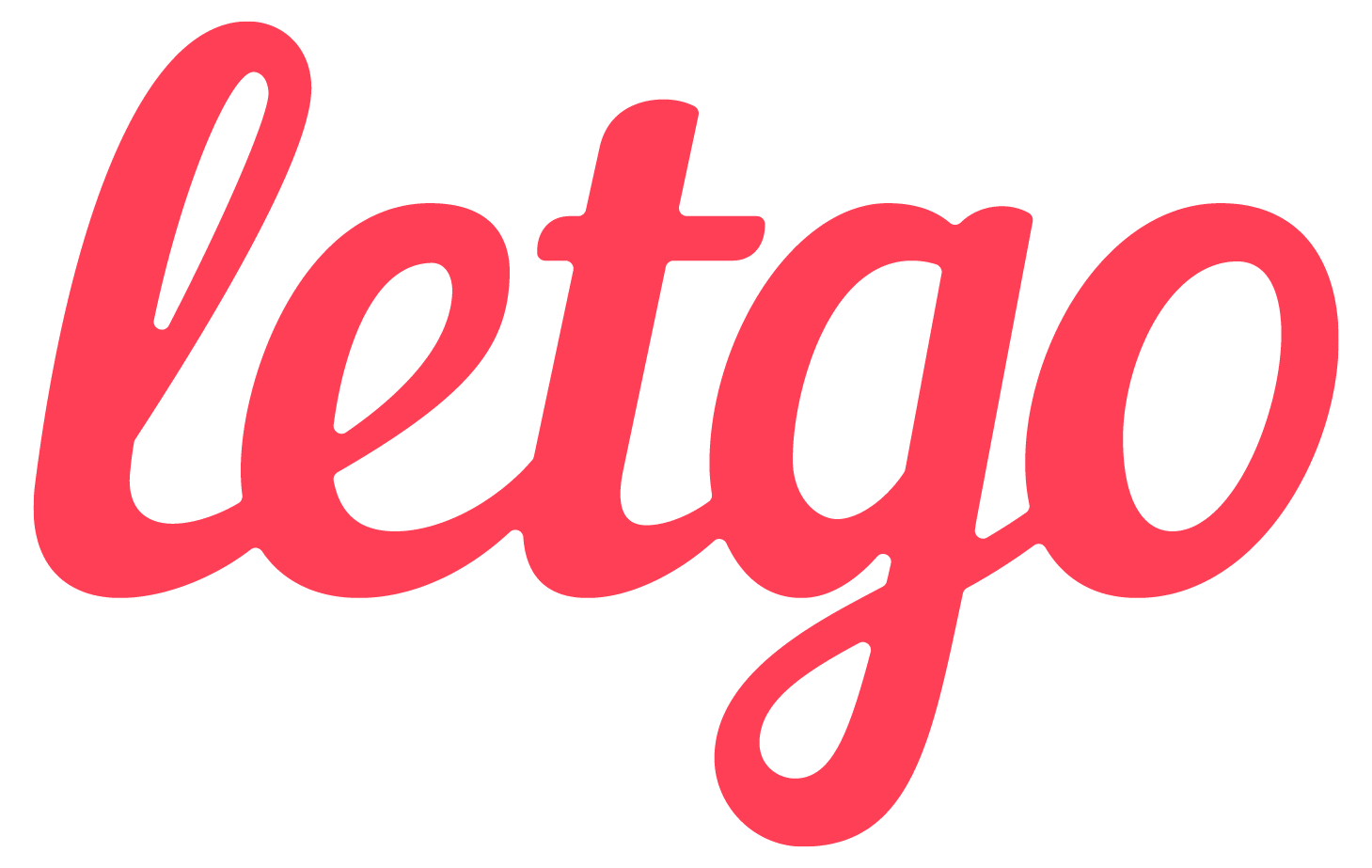 "We all know about software that just sits on the shelf— stuff nobody actually uses. We don't have that problem with TripActions — we have a near 100% adoption rate, which is unheard of for any enterprise tool, let alone travel software."
– David Wieseneck, VP Finance, letgo
Take your travel management expertise to the next level