Return to blog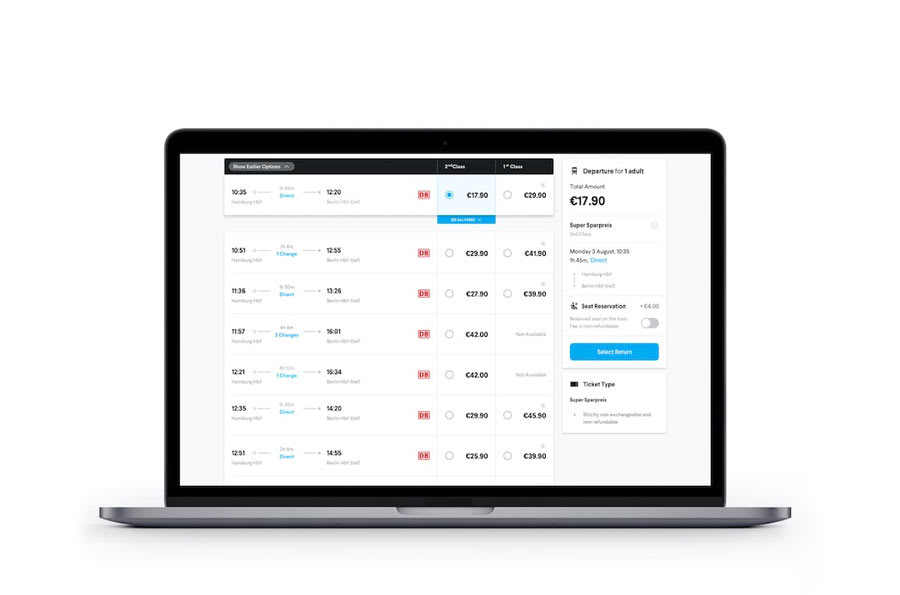 June 25, 2020
TripActions Expands Global Rail Offering with Trainline for Business Partnership
TripActions is excited to announce our new partnership with Trainline for Business, the B2B rail technology solution arm of Trainline. When combined with our existing extensive partnerships with airline, hotel and rental car providers, this expansion of our global rail inventory will help enterprises and their travellers get back to business across the UK and Europe when ready. Our new partnership with Trainline as Europe's leading independent rail and coach travel platform reinforces TripActions continued commitment to our European customers.
With the new partnership, travellers can locate and book all ticket types on UK and Deutsche Bahn trains via the TripActions booking platform—from any device, anywhere in the world. As the industry's leading cloud-based T&E management platform combining the best online booking tool with best-in-class 24/7/365 travel agent service, TripActions delivers:
A comprehensive booking platform: Search and book more than 35 different train providers from any point of sale
Self-service features: Travellers can book, change and cancel one way, round trip and open return tickets on the web and mobile devices
Multi-traveller bookings: Those booking travel can purchase tickets for themselves and colleagues on the web
Discount cards: Users can add UK railcards and BahnCards to save money with discounted fares
Customisable tickets: Those booking travel can mix and match ticket fares, classes and train operators for complete control of the traveller journey
Ticketing: Travellers can select e-tickets throughout most of Europe for safer travel
Automated trip updates: Users benefit from auto-synced train times, routes and seat information with their calendar and itineraries
Multi-channel support: TripActions expert travel agents are available via chat, phone and email 24/7 365 at no additional charge
With this new partnership, we expect travel managers may see even higher program adoption by their business travellers, leading to enhanced visibility of rail bookings and greater spend control. Travel managers also benefit from deep reporting and analytics that provide traveller location, average ticket cost, rail provider, and more—directly from the TripActions Admin Dashboard.
Prior to COVID-19, a significant amount of travel in Europe booked on TripActions was for rail transportation, allowing travellers to easily conduct business between regions while being mindful of the environmental impact of their work travel. As travellers begin travelling again, they are anticipated to rely even more so on the ease, speed, and convenience of train travel around Europe while minimising their carbon impact. Travel managers and travellers alike can monitor their carbon impact from rail travel within the TripActions platform to ensure they are taking care of business while taking care of the planet.
This new partnership further positions TripActions as the best corporate T&E management partner for enterprises by expanding our unrivaled inventory and continuing to enhance our global train offering for business travellers throughout the UK and Europe.
TripActions is the only modern, cloud-based T&E management platform that can provide the inventory and flexible tools that enterprises and their travellers need to get back to business and travel safely and cost effectively—now including Trainline for Business inventory. For more details on the TripActions partnership with Trainline for Business, read the full announcement here.
Return to blog