Return to blog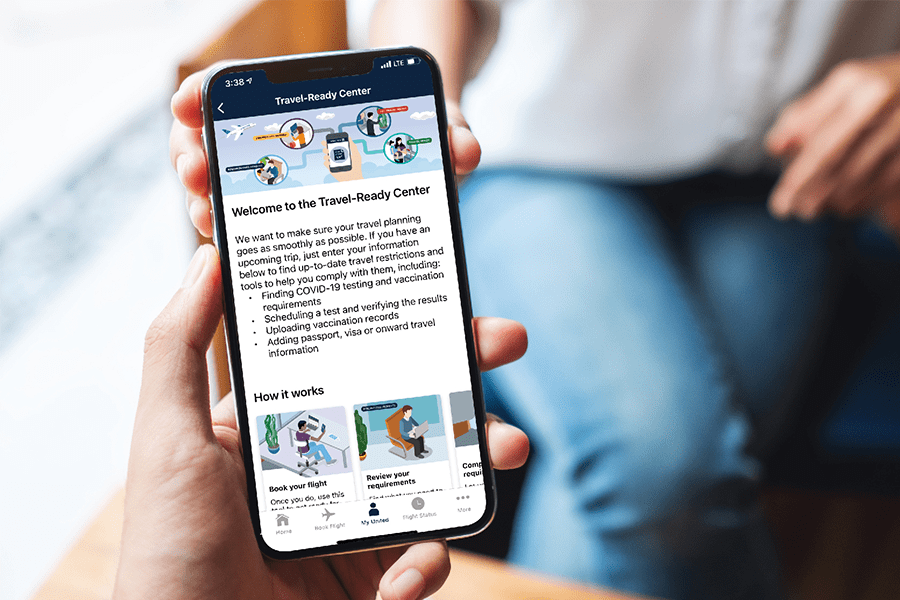 January 18, 2022
Navigating International Travel with United – From Booking to Touchdown
In a world of COVID-19 travel restrictions and border closures, preparing for a trip can be confusing. We've all been there — browsing dream destinations and looking at luxury resorts surrounded by crystal-clear waters or powdery, snowy slopes. And, as you're ready to click "confirm," you become inundated with the logistical uncertainties:
Which COVID-19 test do I need to take before the trip? Do I need it 72 hours before takeoff or before landing? Does the time zone matter? What if I land and don't have the right documentation? Will I be sent back before my trip even begins?
To help ease travel anxieties, Andrew Chase, Director of Air Partnerships at TripActions, sat down with Anthony Cozzi, Director of Mobile and Travel Digital Products from United Airlines. The pair discussed some of the changes and precautions to look out for during travelers' next flights—and how the United Travel-Ready Center takes some of the guesswork out of the process.
Watch the webinar: "Navigating International Travel, from Booking to Touchdown."
What Travelers Should Do Pre-Travel
The conversation began with the biggest challenge international travelers are currently facing: Where can I go? As border restrictions and international travel requirements have ebbed and flowed, customers and airline employees alike had trouble deciphering all the variables and determining if someone was "travel-ready." The addition of vaccine statuses, approved COVID-19 tests, and entry forms added stress and uncertainty for everyone involved.
United identified this stress point and developed the Travel-Ready Center. This digital assistant—built in the United app and on united.com—takes most of the guesswork out of trip planning. With the Travel-Ready Center, travelers can review local entry requirements, schedule a COVID-19 test at one of more than 15,000 testing sites, upload test results and vaccine documentation—and have everything reviewed and validated in advance.
"This tool will take in everything that we know about you—routing, layovers, nationality, residency—and we'll give you back tailored responses that are personalized to you," said Anthony. "This will help you decipher the travel rules that are out there."
Status indicators in the app will note if someone is travel-ready based on the specific requirements needed to board their flight.
Maneuvering Through the Airport
Once the Travel-Ready Center has given the traveler a "travel-ready" status indicator, they should have the information they need to board the plane. Cozzi shared that safety is United's top priority, so travelers may be asked to confirm their travel-ready status at various touchpoints throughout the airport.
Anthony noted that customers may be asked to verify their documents at several points as a precautionary measure. The folks at United sometimes need to double-check (and sometimes triple-check) that travelers have everything they need to fly. They realize these checks are cumbersome for employees and customers alike and are working on solutions to eliminate document revalidation.
"At United, we won't give you a boarding pass until we feel confident that we have everything we need to validate you on that end," said Anthony. "We are putting an indicator on the boarding pass that says 'travel-ready' as an indication to our customer service agents that you've already been validated by the United system."
Plus, if a traveler runs into any snags at the airport, they can connect with one of United's customer service agents by utilizing the Agent on Demand tool. Without having to wait in line, Agent on Demand allows travelers to video chat with a live agent via the United mobile app.
The Onboard Experience
Safety is United's top priority. Since the beginning of the pandemic, the airline has taken countless steps to deliver industry-leading cleanliness to support a healthier and safer return to travel.
United teamed up with Clorox and the Cleveland Clinic to redefine their cleaning and disinfection procedures and create the United CleanPlus commitment.
As an extra precaution, United flight attendants will greet travelers on the plane with a sanitizing wipe. This attention to cleanliness gives assurance to travelers that the plane is clean and a safe place to be.
"Our travelers' confidence is really starting to be reflected in the return to travel," Andrew noted.
What to Expect at Immigration
The final part of the travel journey includes the expectations at immigration. Once a traveler has landed, immigration is the only thing between them and exploring their destination. What was once an anxiety-inducing wait in line can now be a breeze. Anthony's biggest tip for navigating immigration is, again, using United's Travel-Ready Center.
Having the green status indicator in the Travel-Ready Center (and documents in hand just in case), means travelers should be ready to cross through immigration without any issues.
"If you're using our Travel-Ready Center, you're going to be in good shape," Anthony said. "You should have everything you need to cross that border—and cross that border confidently."
Watch the webinar: "Navigating International Travel, from Booking to Touchdown."
Guest blog by United for Business, which offers a suite of products and services uniquely tailored to meet your business travel needs. For more information, visit https://united.business/. United Airlines was a Business Class sponsor of TRAVERSE 21, which attendees met on September 29, 2021 at the Palace of Fine Arts in San Francisco.
Return to blog