Return to blog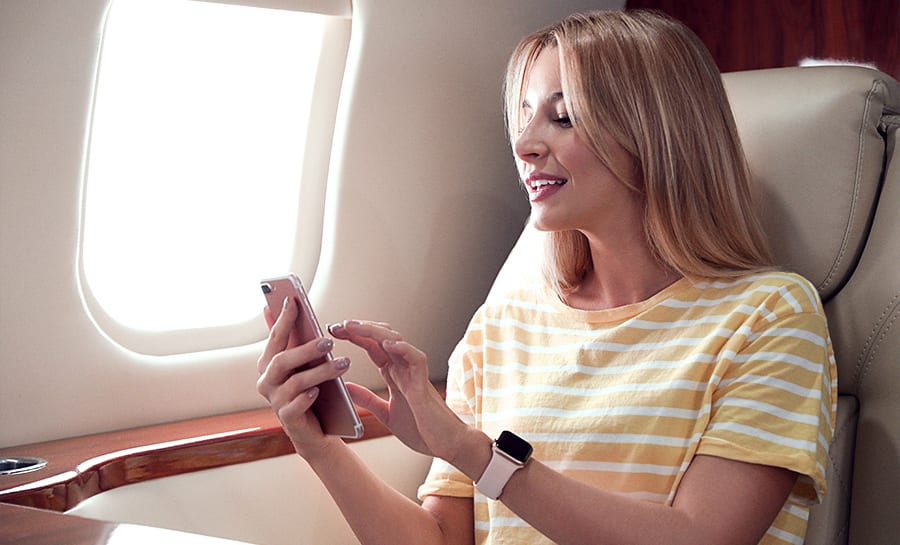 March 9, 2020
Air Travel and Health: What You Should Know
With health and wellness top of mind these past few weeks, it would make sense that people are wondering about the impact of air travel on health — in short, they're asking, are you at higher risk when you fly?
To their credit, many airlines today are giving extra transparency to how they are helping to ensure the health of passengers and flight crews. The Points Guy also shared observations from several trips in today's caution-driven world. Clearly business travel is still happening regularly — in fact, nearly 90 percent of U.S. travelers have yet to cancel plans due to the coronavirus, according to Skift Research.
Yet it's also natural to want to take some precautions today. Here are some things to know that can provide you with more confidence as you're booking your next flight.
Smart Booking
For starters, business travel continues to be safe to many, many parts of the world. Nevertheless, for those looking to book travel, it makes sense to look closely at airline and hotel refund/cancellation policies. Airlines today are showing greater flexibility and understanding for passengers — be sure to check both the standard policy for the fare you're booking, as well as any waivers that are currently in place at most airlines. (Waivers are temporary lifts on cancellation and rebooking policies for a given airline — most airlines have had at least some waiver policies in place since February.) This blog contains quick links to the pages where airlines provide guidance on their current policies in light of the coronavirus situation.
In Flight
As for while you're on your flight — should you feel safe? You can count on airlines to be going the extra mile now and having stricter rules around aircraft cleaning processes. The CDC has provided aircraft cleaning guidelines specifically around the coronavirus, which include using high-grade disinfectant and multi-purpose cleaning on tray tables, window shades, arm rests, lavatories and other hard surfaces. They also have additional disinfection guidelines in place should an infected passenger have traveled on a particular aircraft.
Many passengers worry about recycled air on airplanes; however, airplanes are equipped with HEPA air filters designed to remove pathogens from the air. Here's a brief explanation of in-flight air circulation from ScienceFocus.com:
Fresh air is continuously introduced during the flight. A plane's jets are already sucking in and compressing huge volumes of air to burn with the aviation fuel. Some of this is diverted for the passengers to breathe. … The air already in the cabin is passed through high-efficiency particulate (HEPA) filters to remove bacteria and viruses and then mixed 50:50 with the fresh air from outside.
Moreover, Dr. Vicki Hertzberg, a biostatistician at Emory University, co-led a study on flights and disease transmission with scientists at Boeing. In an interview with NPR, she said: "In some aspects, the air on a plane is cleaner than what's going on in your office buildings."
Healthy Best Practices
Among the best things a traveler can do is to take the same precautions they would at home. You've heard them a lot lately: Wash your hands frequently and properly, avoid touching your face and eyes, and sneeze or cough into the crook of your arm. The International Air Transport Association recommends all airline passengers bring a face mask or other face covering, anticipating that most or all airlines will require them in the near future.
Lastly, of course, airlines are working with the Centers for Disease Control and Prevention (CDC), the World Health Organization (WHO), and federal agencies to ensure they have and use the most current information to make smart, informed decisions around passenger safety. All of us at TripActions look forward to helping business travelers get where they need to go — safely and in good health.


Return to blog